As a window contractor in Lexington, KY our services are unmatched! We specialize in window repair & replacement backed with our own extra 5 year warranty!
Call or Request Free Estimate!
Here are some quick links to more information…
*Does The Brand Really Matter?
When it comes to choosing the best window company in central Kentucky, trust in one that performs their installations with superb craftsmanship and attention to detail.
Melissa, Chris, and Brad with Lexington Blue were awesome. They were all extremely professional and courteous. Chris kept me up to date on the process leading up to the installation, Melissa was awesome in sharing the process with me as they went and sent multiple pictures of their progress, and Brad was exceptional in making sure we were completely satisfied. I would absolutely recommend Lexington Blue to anyone and everyone I know. Call them. You won't be disappointed.

April 2, 2016
Top notch company. Keith & Marco are excellent to work with and the owners are great as well. We would definitely use this company again & certainly recommend them.

October 29, 2015
With so many different window dealers and options available on the market, it can be a difficult choice for most homeowners. Our commitment is to ensure each and every one of our clients receives expert and precise recommendations on their needs.
Our Authority As Window Installers In Lexington
When you think about your options, is price your only concern? Even the best brands of windows won't fully benefit your home if one thing doesn't happen, a correct installation!
One of the main reasons our clients choose us is in the expectations they have with our quality. We continue to remain committed to a quality installation with all of our projects.
Our service technicians regularly attend continued education courses that keep us abreast of the latest and most secure installation methods. These CEU's allow us to offer a more sound install that's guaranteed to allow your window to achieve it's maximum performance potential.
As your certified window installers in Lexington, we ensure your project is completed accurately, efficiently and on time. You can expect nothing less than quality with our services!
We take pride in our work no matter if it's a small repair or a completely new addition.
Trust in Lexington Blue as your authority on window installation best practices!
Our process of operations will not leave you guessing on what to expect next. We have on-site quality control managers to oversee the entire project we perform. This provides you with a resource that ensures you're getting what we promise!
Choosing The Best Windows For Your Home
Don't Be Fooled By The Name!
Another common question our clients ask is…What are the best brands of home windows?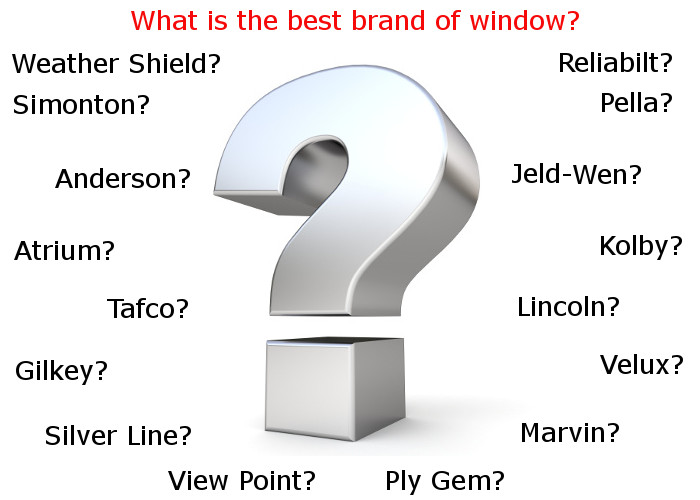 You would be hard pressed to get the real truth from any local window dealer. Why? Because a little unknown fact that most consumers fail to realize is…
Almost all windows are manufactured by the same company!
Many of the window companies in Lexington, KY all sell the same manufactured window, with the exception that it's privately labeled for their respective brand. Yes, even Home Depot and Lowes windows are sold this way!
So where does that leave you regarding your selection? It means you start with choosing the best windows for your home by the window's ratings and insights on manufactured techniques.
Our estimating inspectors have a vast knowledge on each of these respective private labeled windows. They can share with you which window was built by whom and with what quality.
You can request a free window consultation here.
Some helpful ways in determining which ones to choose include…
Your Expectations – What do you want to accomplish?
Do you want a more attractive look to add better curb appeal to your home?
Do you want to save money on your energy bills?
Do you have a "going green mentality"?
How long do you want your windows to last?
Is safety and security of your home a priority?
All of these and more play a factor with determining the best brand of windows.
Brands Of Windows We Work With
One of the many benefits you'll have with us is our ability to work with any manufactured window. Some local window companies in Lexington, KY are only allowed to offer their "dealer branded" types.
Whether your interests are in the style, budget, colors or ratings, we work with them all which gives you access to them all!
Here's a list that includes popular brands of home windows that we can install.
American Craftsman Windows
Anderson Windows
Atrium Windows
Gilkey Windows
Jeld-Wen Windows
Kolbe Windows
Lincoln Windows
Marvin Windows
Pella Windows
Ply Gem Windows
Reliabilt Windows
Silver Line Windows
Simonton Windows
Sunrise Windows
Tafco Windows
Velux Windows
ViewPoint Windows
Weather Shield Windows
Each brand of window has it's own unique value. Our estimating inspectors will work with you to determine which is the best selection that meets your needs, expectations as well as budget.
Replacement Windows For Your Lexington Home
What Type Will You Choose?
Trust in our company for the best replacement windows in Lexington, KY. We offer quality repairs, installations and value for all of your home windows!
Call or Request Free Estimate!
Whether you're looking to exchange and swap out those old windows for a better look or simply want to improve your home's energy efficiency, we have a solution!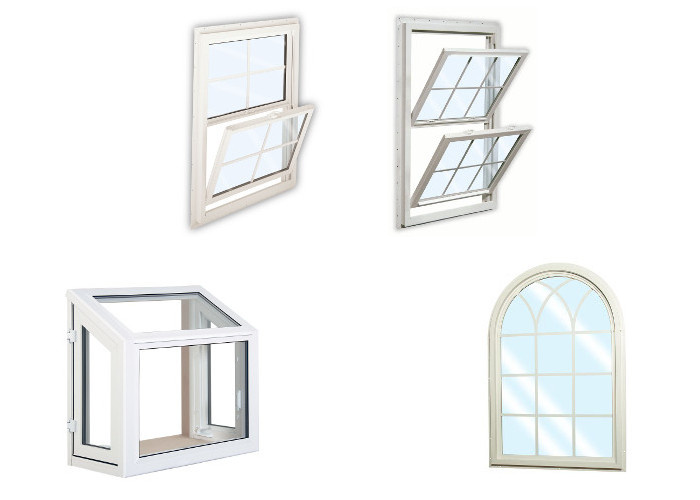 We work with all types including those of all manufactured brands. What's that mean to you? It means we can offer unbiased recommendations that fit your desired goal and budget.
As you continue to read on, you'll find that we provide you with some very helpful resources that are not only educational, but will also help you better understand the value of our services.
Styles & Types of Replacement Windows
The window industry has evolved considerably from the days of old. With new improvements that offer a variety of styles and types of replacement windows, you're sure to find the look and functionality you desire.
We can provide any type and style including composite, wood, aluminum, fiberglass and vinyl windows.
Here's a list of different kinds of replacement windows…
PS. Just in case you question our ability to spell correctly, "lite" vs. "light" in our industry is often mistaken. Light generally refers to sunlight and lite is generally referred to as the glass used in the window.
Single Hung Windows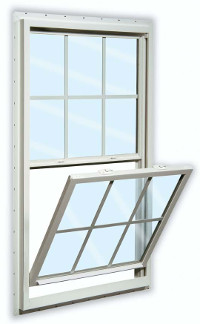 This style has a fixed top sash that doesn't move or tilt, but it has an operable sash at the bottom that generally tilts inward.
Double Hung Windows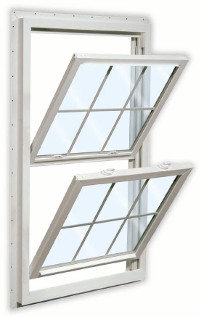 This type allows both sashes within the frame to be operable. In most cases, you can tilt both sections inward for easy maintenance and exterior cleaning.
Geometric Windows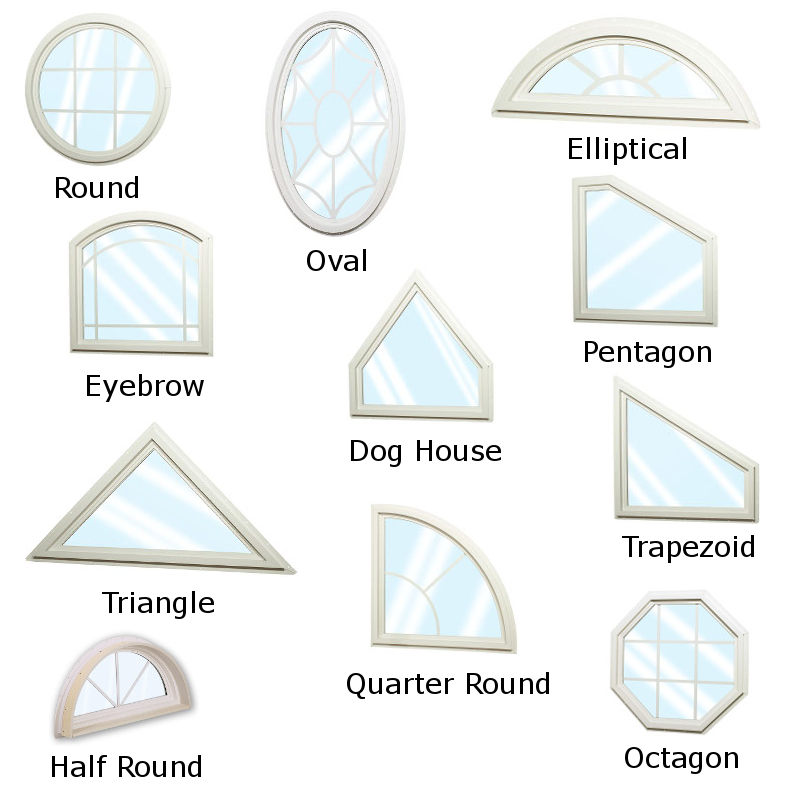 As you can see from the image above, there are many different styles of geometric window shapes. These include round, half round, oval, elliptical, eyebrow, dog house, pentagon, trapezoid, triangle, quarter round and octagon.
They can also be referred to as architectural shaped windows. These shapes provide great accents to existing doors and windows for the look you desire to achieve.
Projection Windows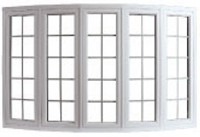 Types of projection windows include bow, bay and garden windows. Their style projects them outward from the exterior of the wall.
Garden Windows
Garden windows are typically utilized in kitchens and bathrooms. They offer side light penetration with optional shelf storage for decorations such as plants and picture frames.
Bow Windows
Bow windows are multiple like lite windows that generally come in 3, 4 or 5 lite combos. The outside (flanker) windows are any combination of a single or double hung. One of the most common design styles beyond the round curvature like shape is adding a wooden shelf on the window's interior.
Bay Windows
Bay windows are always three-lites, with flanker windows that are half the width of the center window. You can have double hung or casement styles for the flankers. A picture window is most commonly used as the center unit.
Horizontal Sider Windows
Two-Lite Slider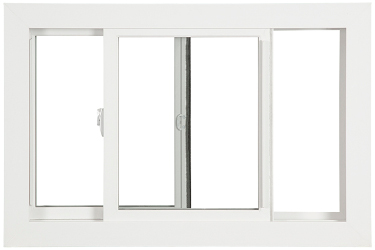 Two or 2 lite slider windows are a version of a horizontal window that allows the window sashes to move from left to right or right to left. 2 lites offer a more elegant look versus the 3 lites.
Three-Lite Slider
Three or 3 lite slider windows operate identically like a 2 lite with the exception of having one additional window included.
Hinged Windows
Casement Windows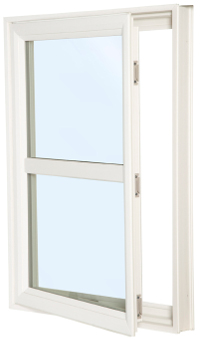 Casement windows have a side attachment to the frame allowing for a side opening function much like a door would have. It's usually operated with a crank or like mechanism that is operated manually to open the window at a preferred width.
Twin casement Windows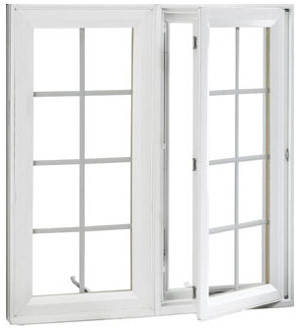 Twin casement windows are identical in functionality to a standard single casement with the exception of two windows that both operate independently of each other.
Awning Windows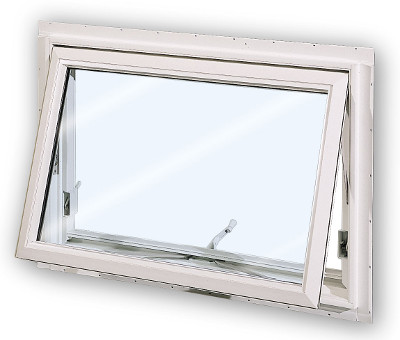 Awning windows have a hinge at the top of the window that allows the window to open outward. They are generally operated by a manual crank or a hydraulic mechanism to stay open.
Hopper / Basement Windows
Just the opposite of an awning type, these hopper windows have a hinge at the bottom allowing the window to open at the top toward the inside of the home. Hoppers are typically used in foundation walls or basements.
Transom Windows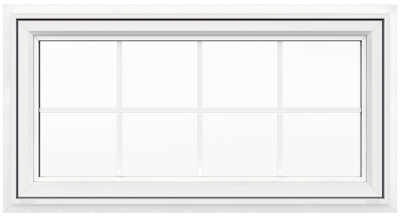 Transom windows are picture windows placed adjacent to another window or door. Sometimes they can be used in combination as a mulled unit, but most commonly they have their own separate opening. It's most common application is being used above doors, but we are seeing an increase in popularity for these to be installed in master bedrooms above the bed.
Sidelite Windows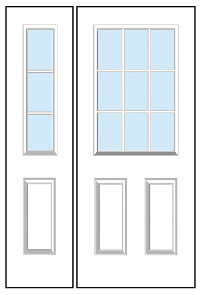 Sidelite windows are as they sound,  a picture window on the left or right of another window or door.
Jalousie Windows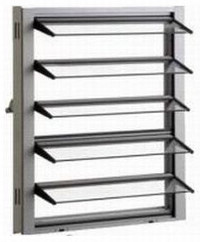 Jalousie windows have horizontal panes of glass that open simultaneously similar to that of household blinds. They aren't too common in Kentucky, but are most commonly found in warmer regions throughout southern states.
Tilt & Turn Windows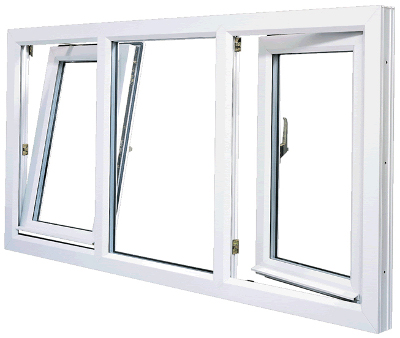 Tilt and turn windows perform just like their name. They tilt inward or turn outward with different operational handles. They are often used within commercial properties on ground floors.
Arch Windows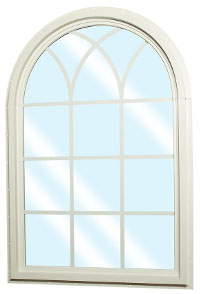 Arch windows or "Radius Windows" all have some type of round like curvature at the top of the window, while having a flat or straight bottom section. It's style is unique in that it provides rooms with more compelling accentual features.
Mulled Unit Windows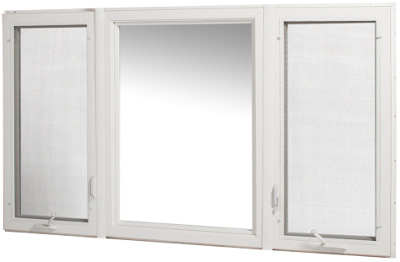 Mulled unit windows are usually two or more types of similar windows that have been attached side by side. Common applications can include 3 double hungs or a center placed picture window with 2 double hungs on each side. Casement windows are also popular choices for the outside window selection.
Did you see a style and type you like?
Understanding How Windows Are Rated
Ratings & Definitions
A window is a window, right? Well, I guess you could say they are all see through, but there's much more to consider.
Many homeowners ask us about the best rated windows for their home.
Some frequent questions include…
What are the best rated energy efficient windows?
What is a Low-E rating for windows?
What is the U factor for windows?
What is the solar heat gain rating (SHGC)?
All of these are valued questions for a homeowner who truly cares about their home's energy efficiency and window performance.
Here are some helpful insights on how windows are rated.
Low-E Coating
Low-E coatings are an application on glass designed to enhance your window's performance by blocking certain elements of the sun's rays. The main purpose is to prevent harmful heat radiation while allowing the benefit of penetrating visible light.
Low-E is made up of tiny microscopic metallic materials which keeps the heat on the exterior of the window.
U Factor
U-factor measures how well a product prevents heat from escaping a home or building. U-factor ratings generally fall between 0.15 and 1.20. The lower the U-factor, the better a product is at keeping heat inside the building. U-factor is particularly important during the winter heating season in colder climates. This label displays U-factor in U.S. units. Labels on products sold in markets outside the U.S. may display U-factor in metric units.

source nfrg.org

A window's U-factor rating determines how well it will insulate the home. The lower the u-factor rating means a better insulating quality.
Solar Heat Gain Coefficient (SHGC) Rating
Solar Heat Gain Coefficient (SHGC) measures the fraction of solar energy transmitted and tells you how well the product blocks heat caused by sunlight. SHGC is measured on a scale of 0 to 1; values typically range from 0.25 to 0.80.

source energystar.gov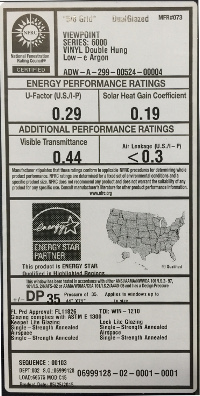 As you can see the U-factor rating is 0.29 in the image above. This is merely an example of a rating. The majority of windows we install in Lexington, KY have a U-factor rating of 0.20 up to 0.24 depending on the quality and price point our clients want to stay within. Anything with a 0.30 or higher is not something we recommend.
Our Most Recent Window Replacement Project
Here's Our Latest Work
Project:
Owners Goal:
To stop the constant influx of cold air and reduce utility bills.
Problems:
The window had originally been installed incorrectly. The framework wasn't square which caused air to flow in and out of from the sides.
Our Steps:
We completely removed the existing window and re-framed everything to square so to prevent further insulating loss. From there we upgraded the quality of window (at owner's request) to a new window with a u-factor of 0.21 for better energy efficiency.
Owner's Response:

David did great work. He showed me what was wrong and made all improvements to my satisfaction. I recommend this company for windows.

October 30, 2015
back to top
Why You Should Choose Lexington Blue For Your Window Replacement
Our Commitment To Quality!
It's the recommendation on the right quality accompanied by the quality of installation that makes Lexington Blue a highly recommended service provider for windows.
We'll take our time to educate you on you're options regarding your budget along with your desired outcome. Whether it's the look, functionality or efficiency you want to change, we'll always offer unbiased advice!
Our installers are well trained and practiced to deliver a quality service backed by our additional 5 year workmanship warranty. This is in addition to any manufacturer's included warranty to ensure your getting nothing but the best!
Request a Free Consultation for the best replacement windows in Lexington, KY!
Call or Request Free Estimate!